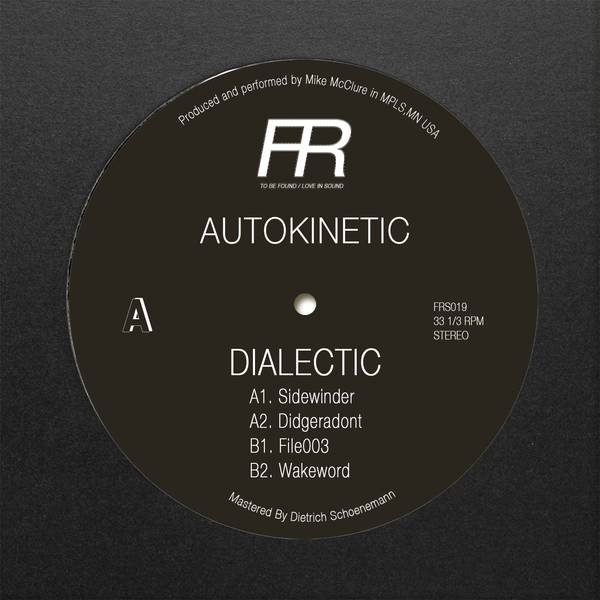 Tax included, Shipping not included
Autokinetic's techno roots reach back to 1993 when Mike McClure and John Golden formed Auto K in Minneapolis, forming the vibrant MPLS rave scene alongside Freddy Fresh, Woody McBride, and DVS1. Auto K then changed their name to Auto Kinetic, and now Mike McClure is ripping hypnotic modular techno in hyperspace solo as Autokinetic. These tracks have been secret weapons in DVS1 sets for the past couple years. "great stuff as always" - Decoder "Very cool" - Justin Cudmore "It bangs!" - CMD "Really good" - 2Lanes "Great release!" - PlayPlay "Sounds great!!" - Golden Medusa "Big blend potential with these trax!" - Escaflowne 
The A side consists of "Sidewinder" and the cheekily titled "Didgeradont". Both of these are bonafide heady techno hits. I mean, the production on these…higher consciousness inducing dancefloor rolling mania. For the old ears and fresh feet alike. The B side opens up with "File003", which has a robotic restraint and up-beat bassline to keep you locked in for the never ending tunnel ride of a track. "Wakeword" ends the EP with a proper, slightly acidic challenger to meet all late night crowds with taste. But no chin scratching here. This is techno at its tastiest. Mike is a pro who knows how to kick and punch with full peak euphoric power. He's been in the game for three decades at this point, and is still pushing his craft and himself to new heights. 300 copies pressed worldwide. Not to be missed out on. Produced and performed by Mike McClure in MPLS, MN USA Mastered by Dietrich Schoenemann. Design by Nick Owen.
---